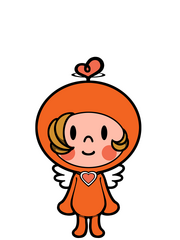 Crystal is a Denpa Man and a main character in The Denpa Men: They Came By Wave, The Denpa Men 2: Beyond the Waves and The Denpa Men 3: The Rise of Digitoll.
Crystal is a constant character, maintaining the same role regardless of whichever Denpa Man one has as their hero .
Crystal possesses the Full Heal (All) antenna.
Appearance
Edit
Crystal has a round head, long hair and blushed cheeks.
The above image depicts Crystal from the second game. After saving the King of Evil from the Inferno, visiting him with Crystal as a party member causes him to begift a pair of Holy Wings and a Heart Choker to Crystal. It is not compulsory that Crystal wear these garments for other Denpa Men can equip them.